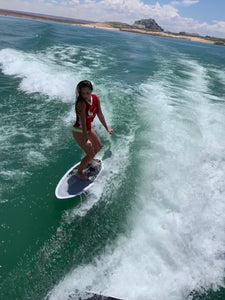 Benefits
Bring the best of modern technology and design to your boat.
Wave Shaping technology with all the benefits of traditional trim tabs.
Fuel Efficiency: We have seen at least a 20% reduction in RPMs at surfing speeds. This translates to a huge reduction in fuel consumption. It also allows you to run more weight, people and do it longer.
Tabs take 2.5-3 seconds to deploy or retract, no more hanging off the boat to attach a suck gate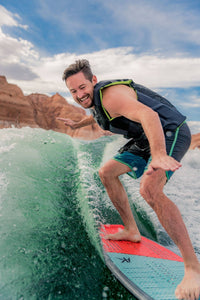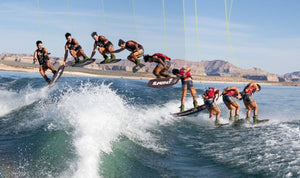 Wakeboarding, Waterskiing, Cruising and Hole-Shot
Wakeboarding
Our Watersport Trim Tabs allow you balance your boat and shape your wake for an even ride and a symmetrical launch!
Waterskiing
If you're a water skier, you can deploy both tabs at the same time to adjust the attitude of the boat for a smaller wake.
Cruising
When cruising around the lake or driving to your favorite riding spot use the tabs to balance your boat and prevent porpoising through choppy water.
Hole-Shot
Lower both tabs to create lift and get your boat up on plane quickly, even when heavily weighted.
Only the best... At a reasonable cost
We're excited to be able to offer our watersport trim tabs, to the world. We set out to design a system that not only shape a great wave, but would be easy, intuitive and reliable; all at the touch of a button.
Easy to Install! No Guesswork.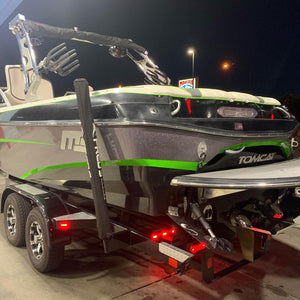 What's included:
Infinity Wave System includes:
1. Two Laser Cut, Watersport Trim Tabs polished and professionally welded in the USA.
2. Lenco Electronic High Speed Actuators
3. Wiring Harness
4. Rocker Switches
5. Upper Mounting Brackets
6. Hardware (Screws, nuts and bolts)
7. Detailed Installation Instructions, with contact info and phone support.
Testimonials
Another night of pure joy all thanks to Infinitywave Tabs After some lead weight adjustments, got the wave dialed in. It's got height, length, and amazing push. If you have a pre surf system boat, you can't go wrong with this upgrade. Oh and the sunset isn't too bad either 😉 Rider in the pic is 6'3"

Cody Bridger
I gotta say, I am STOKED about how good these InfinityWave tabs performed and how good they look on the boat! The first lake test yesterday went flawless and I could not be happier with my decision to pull the trigger on these! 

Easy to dial (took less than 3mins adjusting the tabs to find perfect surf wave). Takes very little deployment angle. Using the same ballast setup I was using before when running the Nauticurl suck gate. The rpm's dropped over 200rpm compared to using the suck gate and speed was 11mph instead of 10.8! With center tab at 40% (see below FB video), rpm's are running at 3150. Taking the center tab to 0% to make the surf wave the biggest possible, rpm was 3400. With the Nauticurl and speed at 10.8, rpm's were running 3400-3450 at 40% and 3650+ when taking trim tab to 0%.

Soon, I will be posting a much more detailed review and writeup on the InfinityWave tabs. In meantime, Here is a link to the Centurion/Supreme Facebook page that one of my buddies on the boat took and posted to show 2) video's riding the wave and some pictures! WHOOP 

Andrew DeHaan